Product Summary
The V23072-C1061-A308 is a PCB relay, Single relay. Application areas of the V23072-C1061-A308 include Lamp control circuits, Indicator control circuits, Sunroof motors.
Parametrics
V23072-C1061-A308 absolute maximum ratings: (1)Nominal power consumption of the unsuppressed coil at nominal voltage: 1.1 W; (2)Test voltage winding/contact 500: VACrms; (3)Maximum ambient temperature range1): -40 to + 85 °C; (4)Operate time at nominal voltage 2) Typ: -3 ms; (5)Release time at nominal voltage Typ: -1.5 ms.
Features
V23072-C1061-A308 features: (1)60% smaller volume than power relay K; (2)High switching capacity; (3)Small footprint, minimal space requirements.
Diagrams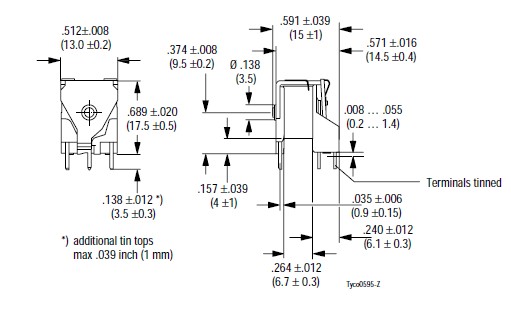 V23003A 37C104



RELAY GEN PURPOSE DPDT 2A 24V

Data Sheet



V23003B 25B110



RELAY GEN PURPOSE 4PDT 2A 12V

Data Sheet



V23003B 37B110



RELAY GEN PURPOSE 4PDT 2A 24V

Data Sheet



V23003B 37C110

TE Connectivity / Axicom

General Purpose / Industrial Relays 4 FORM C, 4PDT,4 C/O

Data Sheet



| | |
| --- | --- |
| 0-9: | $146.38 |
| 9-25: | $141.99 |
| 25-50: | $128.06 |


V23003B 37C116

TE Connectivity

General Purpose / Industrial Relays

Data Sheet



V23003B 37F104



RELAY GEN PURPOSE DPDT 5A 24V

Data Sheet